If your institution uses the EPA's Portfolio Manager tool to manage property data, you can import these properties into GRITS to quickly populate your Facilities tab (including their Energy Star scores, which will be checked daily for updates). First, log into your Portfolio Manager account and click the "Contacts" button in the top right-hand corner. Search for "GRITS" in the search bar, then click "connect". We'll check for new connection requests regularly, but you should also let us know you're trying to connect by emailing support@gogrits.org.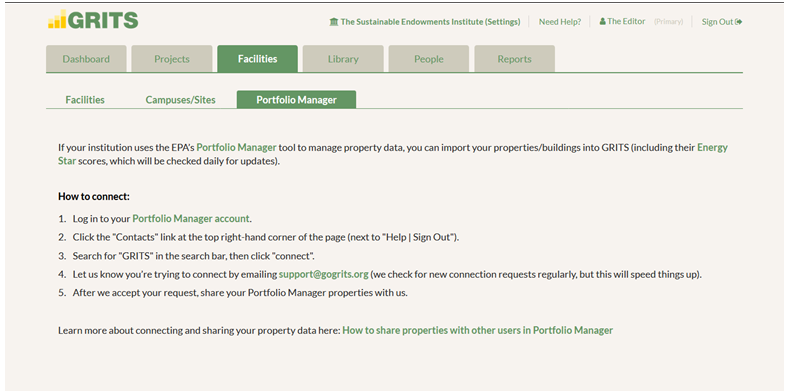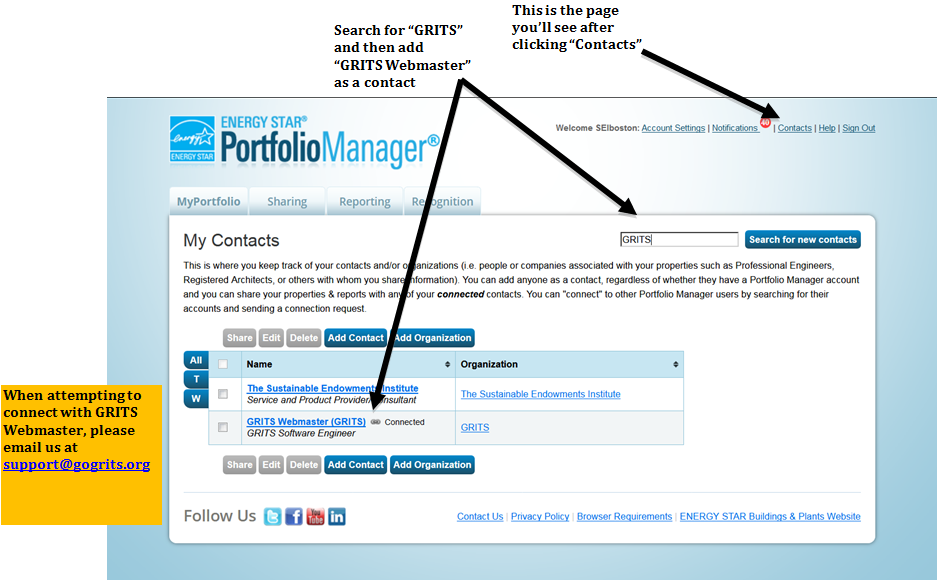 Once your Portfolio Manager account is connected to your GRITS account (which will be reflected in your "Contacts"), you should then share your Portfolio Manager properties with GRITS. Log into your Portfolio Manager account and click on the "Sharing" tab followed by the "Set Up Web Services/Data Exchange" button. Click on the GRITS Webmaster account in your contacts book, select the properties you would like to share with GRITS, and choose your sharing permissions (Read Only Access will work). Then click "Authorize Exchange," and follow any additional instructions.
To add these properties to GRITS, log into your GRITS account and navigate to the Facilities tab. Click the Portfolio Manager sub-tab, and then click the "List Unconnected Facilites" button. A list of your shared properties will appear, and you can use the "Affiliate Facilities" button to either import your property as a new facility or merge it with an existing facility. If the property's country and state don't match an existing campus/site in your GRITS account, you'll have to create a new one to import that property. Once imported, the facility will no longer appear in the list of unconnected properties.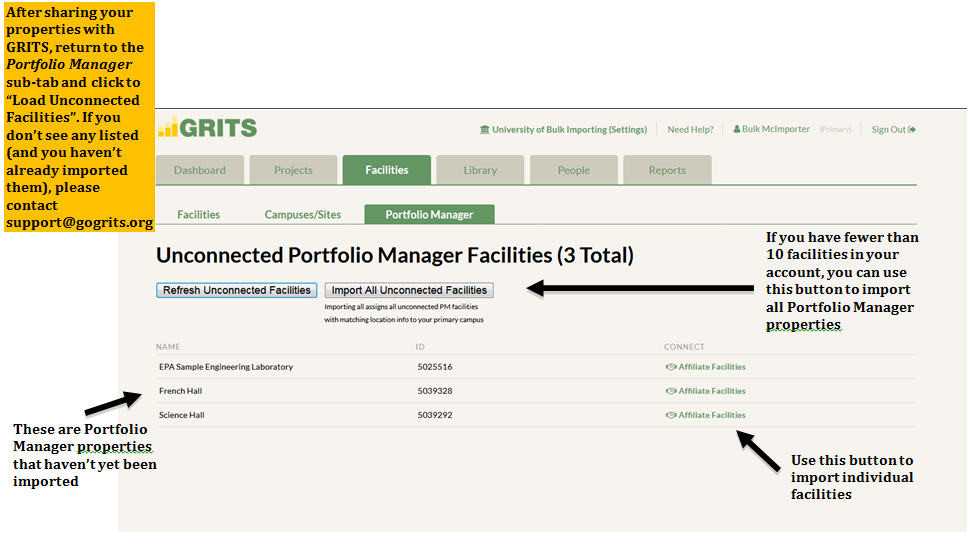 You can also use the "Import All Unconnected Facilities" button to bulk-import your Portfolio Manager properties into GRITS. This button will only appear if there are 10 facilities or fewer in your account. Only properties located in the same country and state as your primary campus/site will be imported, and they'll be linked to that campus. Properties with different country or state than your primary campus will not be imported, and if you have multiple GRITS campuses/sites in the same country and state, all bulk-imported facilities will be linked to the primary campus. After the bulk import is completed, you will receive an email containing the results of the import (i.e. total number of facilities added and individual facilities that were not imported). Any remaining properties in the list can be imported individually to campuses/sites with matching location information.
If you make a mistake when importing, you can always uncheck the "s'ynced" box on that facility's edit page or click the "unsync" button on its view page to have the property appear again in your unconnected properties list.
If you don't see any properties in your unconnected properties list, there are three possible reasons:
You haven't yet shared your properties with GRITS. Please follow the instructions above to do so.

You have already imported all the properties in Portfolio Manager that have been shared with GRITS.

You have multiple Portfolio Manager accounts and connected to one that doesn't contain any properties. Your GRITS account can only be linked to a single Portfolio Manager account. Please contact support@gogrits.org if you need to connect a different Portfolio Manager account to your GRITS account.