Portfolio Manager Initiative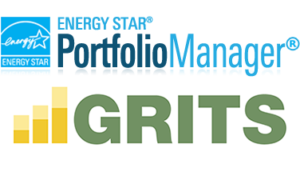 Sign up for a free GRITS account
In recognition of becoming an ENERGY STAR Partner, the Sustainable Endowments Institute has launched an initiative available to users of the U.S. EPA's ENERGY STAR Portfolio Manager tool. Institutional users in city/county/state governments, healthcare, higher education, and K-12 schools now have access to a free version of GRITS, the project-management platform used by nearly 800 institutions to calculate, track, and share the energy, financial, and carbon savings data from their sustainability projects.
With a broad range of users across sectors, both Portfolio Manager and GRITS are leading tools being used by institutions to better manage their energy and carbon data. This initiative highlights the complementary nature of Portfolio Manager and GRITS to track building-level and project-level data, respectively.
Portfolio Manager is the ideal tool to gain deeper understanding of building-level energy consumption and carbon emissions trends. GRITS was designed specifically to focus on project-level data tracking and establishing a strong business case analysis of the financial, energy, and carbon benefits of sustainability projects. With a web services backend connection, users can easily link Portfolio Manager and GRITS accounts to quickly sync data from Portfolio Manager to GRITS. This makes it very easy for existing Portfolio Manager users to have a running start when beginning to use GRITS.
With the launch of this new initiative, Portfolio Manager users in certain sectors will be invited to receive free access to GRITS as a benefit of being a Portfolio Manager user. Portfolio Manager is a free service provided by the U.S. EPA while GRITS is a subscription service developed and managed by the Sustainable Endowments Institute, a Boston-based organization.
"We're excited to become an ENERGY STAR partner and to help empower both Portfolio Manager and GRITS institutional users to further advance their energy efficiency work while saving money and reducing carbon emissions" said Mark Orlowski, Founder and Executive Director of the Sustainable Endowments Institute.
"The U.S. Environmental Protection Agency is proud to welcome Sustainable Endowments Institute as a new ENERGY STAR partner, and looks forward to working together to improve the energy efficiency of buildings owned and operated by a wide variety of organizations, tapping the complementary strengths of energy benchmarking and project assessment and tracking," said Brendan Hall, Public Sector Program Manager, ENERGY STAR Commercial & Industrial Branch.
The free version of GRITS now available to Portfolio Manager users in the aforementioned sectors includes the following features:
Access the GRITS Dashboard, which shows a snapshot of your project portfolio's energy, financial, and carbon savings,
Access the Project Details page to track project-specific details, including project type, cost, relevant transactions, performance, and measurement and verification,
Utilize the Project Overview feature to see all projects you have entered (proposed, in-progress, and completed) and view aggregate metrics like average ROI, payback period, and annual financial savings,
View a limited version of the GRITS Project Library, which allows for filtering through projects from other institutions by project type, project cost, payback period, region, and more,
Create an unlimited number of user accounts and track up to 5 projects.
Sign up for a free GRITS account
After signing up for free GRITS access you'll then be asked to confirm that you have a Portfolio Manager account by linking it to GRITS by following these instructions.