GRITS New Zealand


in partnership with
Green Global Solutions (Aotearoa)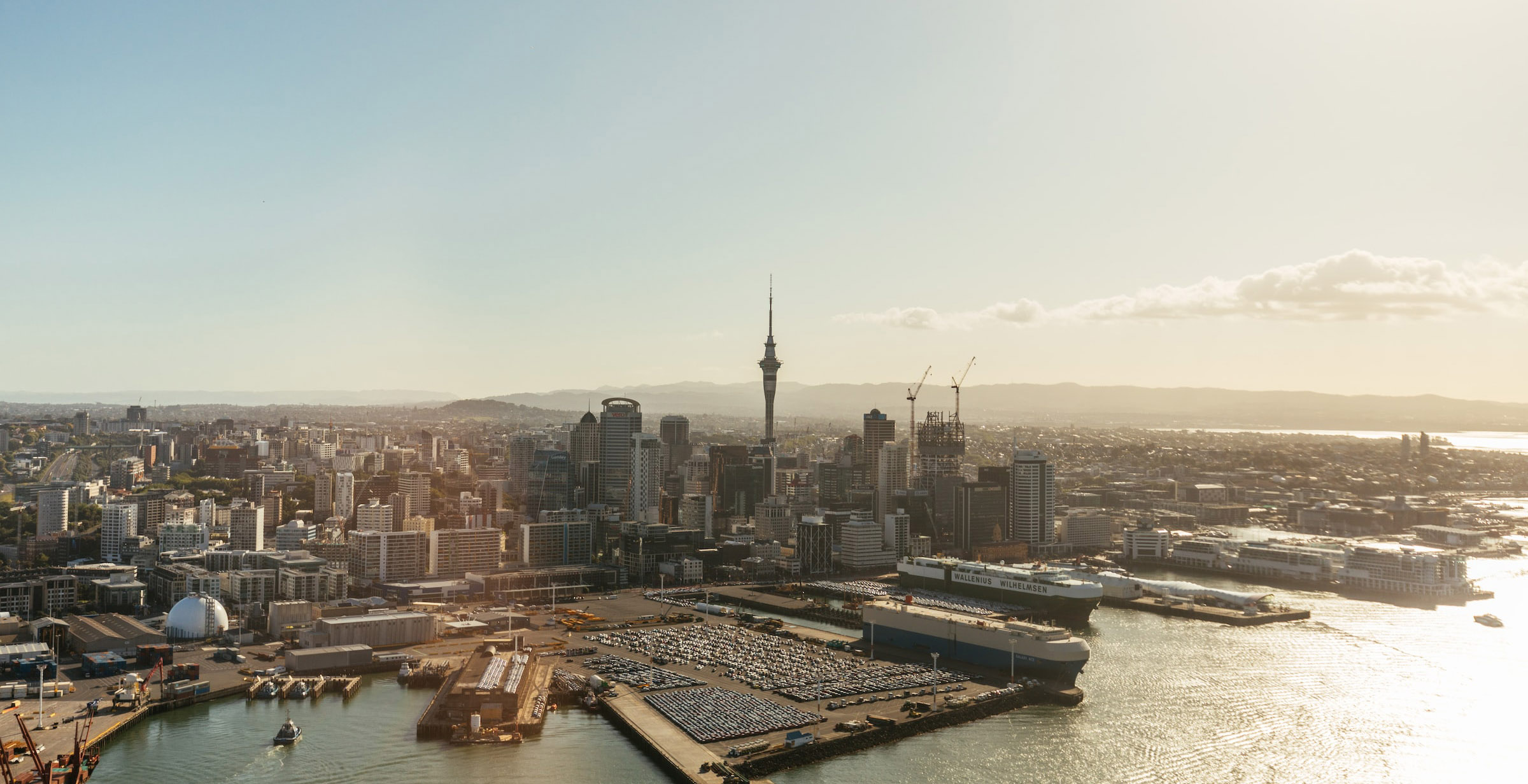 The #1 Building Decarbonization Platform

Introduction
GRITS is proud to partner with Green Global Solutions (Aotearoa) to bring our innovative carbon reduction platform to companies and institutions across New Zealand.
GRITS is an easy-to-use platform designed to help institutions analyze, track, and share the energy, financial, and carbon-saving impacts of sustainability projects. More than 900 institutions in the United States, New Zealand, Australia, Canada, and the United Kingdom use GRITS to advance their sustainability goals. GRITS is highly customisable and is developed specifically to support users in New Zealand and Australia with local emissions factors, NZD, and AUD currency and metric units.
Learn about GRITS
To learn more about how GRITS can help you achieve your company or institution's goals, we invite you to read the GRITS 1-page summary and watch the GRITS introductory tour (see below).

Connect with Green Global Solutions (Aotearoa) 
Contact our colleagues Manjula and Gary at Green Global Solutions (Aotearoa) to schedule a demo, receive a price quote, or arrange a zoom call to learn more.
GRITS Features
There is nothing like GRITS. GRITS is the #1 building decarbonization platform. GRITS has a unique set of features that are complementary to any existing energy/sustainability software you may use and is the first platform ever to help track project-level data combined with developing robust net zero emissions reductions plans.
GRITS Tour Video
Watch this GRITS tour video that provides a high level overview of GRITS' capabilities all in only about 8 minutes.
GRITS 1-page Summary
Please download this 1-page summary to learn more about GRITS' key features and benefits.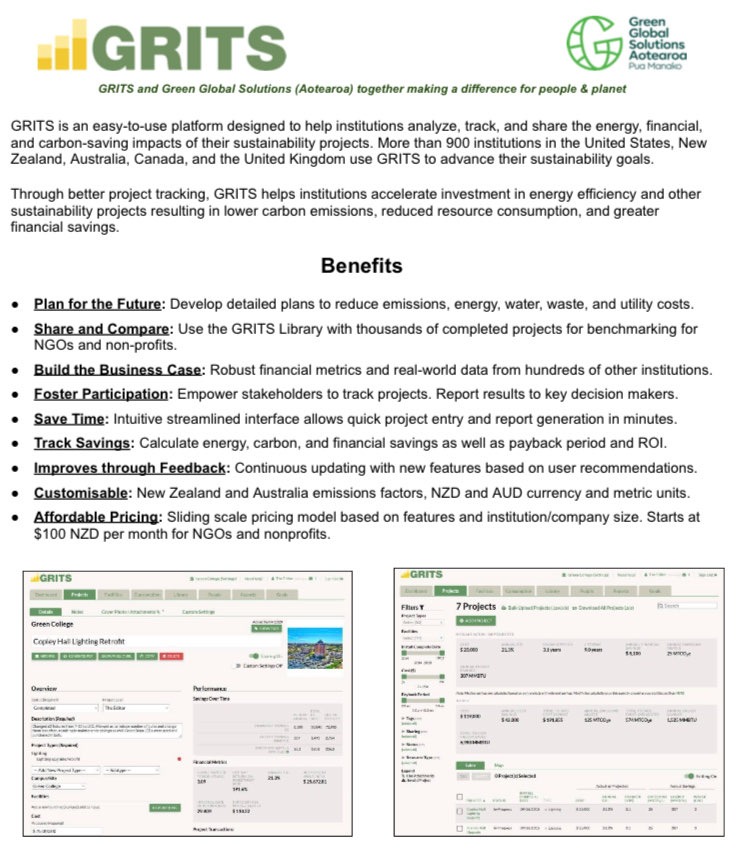 GRITS Venn Diagram
This Venn diagram is designed to help provide a high-level overview of where GRITS fits into the larger landscape of energy tracking and greenhouse gas emissions tracking software.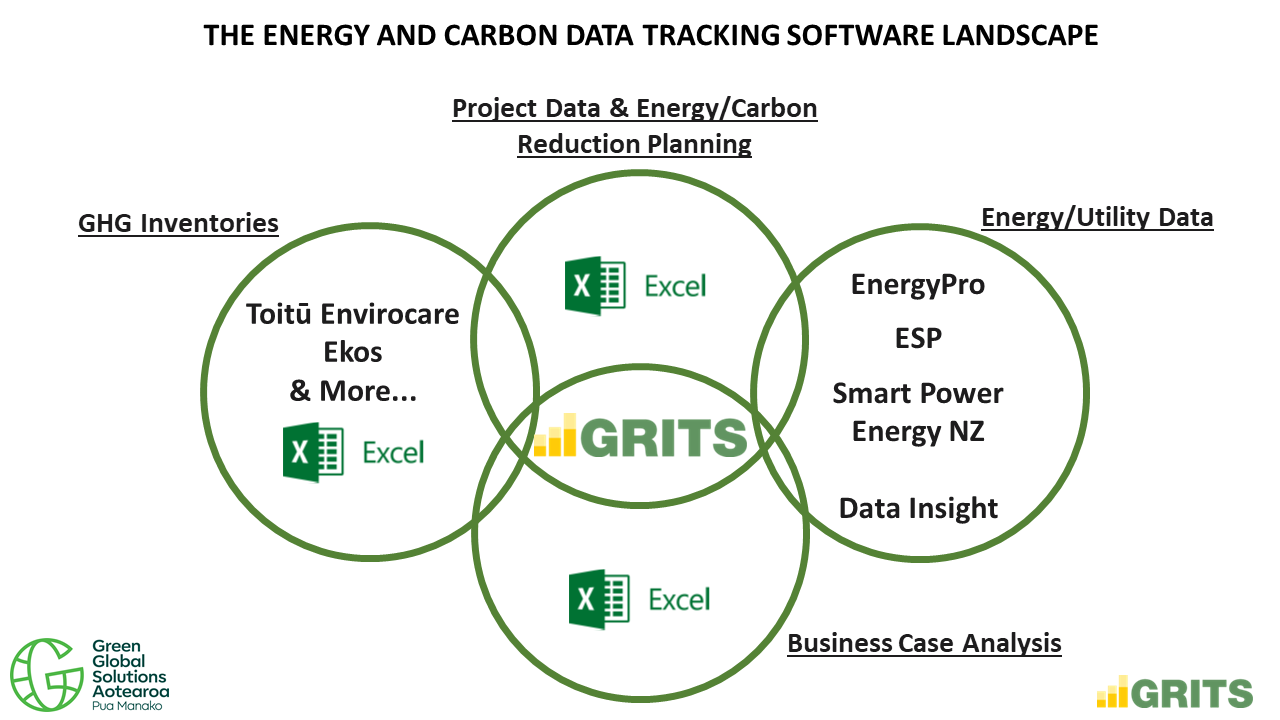 GRITS Users
GRITS is in use by more than 800 organizations and companies across a half dozen countries including New Zealand, Australia, Canada and the United States. Our users include half of the Ivy League, many local governments and councils and numerous corporations. In Australia, our current users include the University of Adelaide and Queensland Airport Authority (Gold Coast Airport and Townsville Airport).
CONTACT
For more information or to request a price quote or demo please contact:
– Manjula Sickler: manjulas@greenglobal.co.nz
– Gary Walker: gary.w@gsd.co.nz